Challenge
The phrase 'mission critical' neatly sums up the importance of our brief to transform incident support technology for Yorkshire Water. Every single day, the authority has to supply a staggering 1.24 billion litres of drinking water to the county, as well as parts of Lincolnshire and Derbyshire.
A fast and effective response to emergencies is vital. From a sewer flood in a Dales village, to a burst pipe in the 62,000-mile-long pipe network, to a potentially disastrous pollution incident, the authority needs its central incident room at Bradford to be all-seeing, all-hearing and always ready for action.
With the objectives clear, we shaped the audio visual consultation process around the operational benefits we could deliver along with the technology. The challenge to Visavvi was to help the incident response team collaborate more effectively with a seamless sharing of real-time video, audio and data. In the end, it had to be Yorkshire Water customers who benefitted.
It is essential that we are able to deal with incidents as swiftly and competently as possible and the new incident room with its state-of-the-art technology is really helping us achieve this. The new technology provides us with better site visibility, instant access to shared information and improved communication channels, resulting in increased response efficiency and ultimately customer satisfaction."
Solution
Our understanding of the challenge prompted us to identify key goals for the project. Yorkshire Water needed clearer visibility of remote incidents; faster access to shared information to improve decision-making; and better communication channels. The Visavvi delivery was shaped accordingly.
New to the mix was a fast-response incident vehicle, which we fitted with agile yet comprehensive video equipment linked to the incident room. This became our front line of defence. The next step was to transform the environment back at HQ.
A pair of adjoining walls in the incident room provided the perfect location for a videowall. To give it the focal-point presence it demanded, we created a bespoke media cabinet that curved around both walls. We knew we had to customise if we were to maximise efficiency. And to make sure the videowall fitted and aligned perfectly, the housing was meticulously assembled offsite then tested rigorously before installation.
Video clarity
The result delivers optimised display, with built-in flexibility:
A touch user interface control, with 12 screen (47") and a matrix switcher for multiple source video content
Sources include a video conferencing system, wireless laptop screen sharing connectivity, multiple system PCs and auxiliary HDMI table connections, all connected by a 16×16 matrix processor
An interactive 86" touch display, in addition to the videowall, for real time annotation of content that can be shared over video conferencing to involve remote partners when managing incidents
The options provided by a master video processor, including content in full 16:9 aspect ratio on the 3×3 section of the wall, individual content on any screen or any number of windows in 16:9 format
Clear audio communication
It's vital to never underestimate the importance of clear audio communication. When firm decisions need to be made, clarity is king. And once again, we chose to tailor our tech delivery – this time to maximise the incident room acoustics. The latest audio video conferencing technology was used to power four strategically placed ceiling speakers, and several pre-set audio levels were established to match different applications and scenarios.
We designed a strategically-positioned video conferencing system that would give the incident room team the visibility and information they need to act swiftly and decisively. A central processor ensures that incoming video content can be displayed simultaneously in the videowall. And for further versatility, the system is fully featured for multi-site and Skype for Business, ensuring multi-platform flexibility. When someone speaks, they need to be heard – no matter where they are in the incident room. Four ceiling-mounted vertical array microphones enable that, with feedback-free high-quality audio pick-up.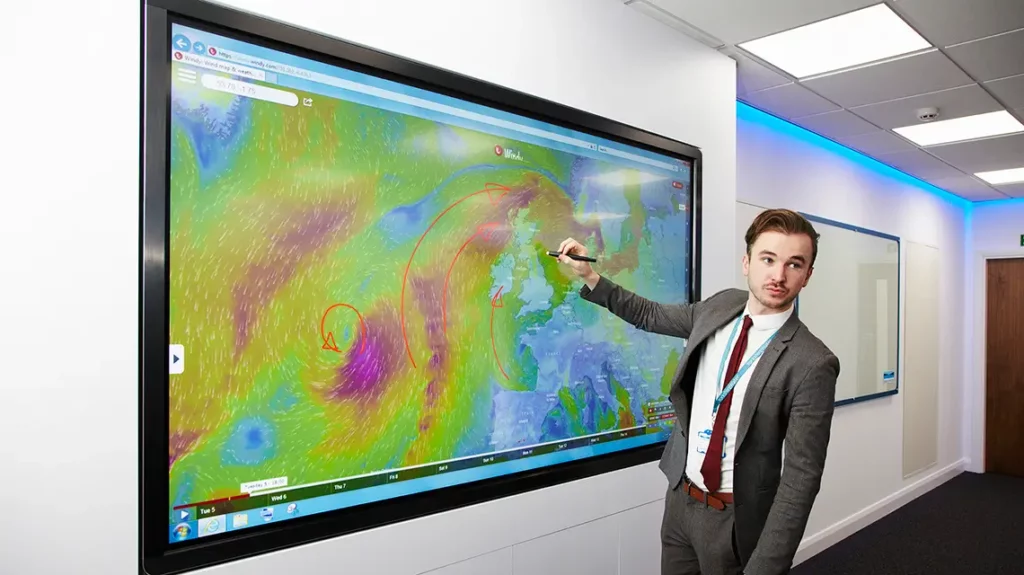 Outcome
Thanks to clear understanding, detailed consultation, careful planning and ingenious application of technology, the Visavvi project is a case of mission accomplished. Yorkshire Water is responding more rapidly and effectively than ever before; and providing essential services in the most pressing circumstances.
Start a project with Visavvi
Speak with our leading audio visual and collaboration technology specialists